Part IV: The Free Agents
The Mariners greatest needs, aligned with the meat of the 2022 free agent class, reside in the infield. Specifically, at second, short and third.
Now, this by no means exiles Crawford or Moore from the team's long-term plans, they are simply flexible puzzle pieces. Crawford could easily shift to second base if need be, and Moore, who can play every position but catcher, will likely serve in a Ben Zobrist/Chris Taylor type of utility role long term, as long as his offensive production continues.
Alright, we've waited long enough. Let's dive deep these juggernaut infielders, and who could make the most sense for Seattle.
Hot Names but Cold Feet
Carlos Correa – Shortstop, Houston Astros
Correa will be uniquely young when he hits the market, set to enter just his age 27 season in 2022. But there are a couple reasons the return on investment with this one has a better than average chance to be deemed unsatisfactory. First and foremost, Correa has done an A+ job burning bridges with a majority of Major League Baseball over the last year. Not just for the sign-stealing scandal Houston was found guilty of, but how he more than anyone else was so outspokenly unapologetic about it.
Pair that with poor offensive seasons in two of the last three years and an inability to stay on the field due to several injuries he's accrued, playing over 110 games just once in six years, this probably isn't the smartest place that sizable free agent dollars could go.
Salvador Perez – Catcher, Kansas City Royals
I ended up throwing one catcher into the pot. Placing Perez in this category is not at all a knock on him as a player, as he has been one of the best catchers in the game for the last decade. His offensive numbers compared to the rest of his position group actually stack up fairly well, especially after what he produced coming off Tommy John surgery in a shortened 2020 (though only in 37 games). But for the money Perez will likely ask for correlated with his offense compared to the rest of the marquee free agents and the Mariners current outlook at catcher, his name would likely be further down on their list of needs.
A Man Can Dream, Right?
Nolan Arenado – Third Base, St. Louis Cardinals
This one is 99.9% not happening. We would all love to wish upon a star and make it happen, but it isn't.
The future Hall of Famer was recently traded to the St. Louis Cardinals from the Colorado Rockies (I could write a whole blog post about this disaster), and he was traded despite having a no-trade clause in his contract that was eventually waived (in other words, he was more than happy to join St. Louis). He has an opt out in his deal next winter, but it is unlikely he leaves a place he seems ecstatic to call home after only one year, calculated with the money left for him on the table and being placed in a division where the Cardinals' surrounding competition is subpar to say the least.
Had he still been in Colorado and opted out after another full year with the Rockies, which many expected he would do hence why the trade was made, I would have said Nolan coming to Seattle was possible. But after this trade, that idea is pretty much dead.
Freddie Freeman – First Baseman, Atlanta Braves
This one is more likely than Arenado, but the chances are still extremely low by all measures. With the Mariners having given White a six-year, $24 million deal before he ever reached the majors, they signaled that they fully expect him to be their everyday first baseman for the foreseeable future. White is not only the best defensive first baseman in the game but was about as safe of an offensive prospect as one could find through his time the minor leagues, hitting for a quality balance of average and power while limiting strikeouts. 2020 does not accurately reflect his offensive outlook and the Mariners front office believes he will surely put those woes behind him moving forward.
That being said, if White really does not make any strides in 2021, Seattle may decide to kick the tires on the reigning MVP. Freeman has been a consistent superstar throughout his career, posting a career .892 OPS and has continued to get better with age. This past year he led the league in doubles (23), hit a whopping .341 and totaled 37 extra-base hits, all in just a 60-game span. He will be 32 years old in 2022.
Possible but Less Likely
Francisco Lindor – Shortstop, New York Mets
Lindor has possibly been the best shortstop in baseball over the last five years. After averaging 6-win seasons (per WAR) from 2016-2019 along with a pair of silver sluggers, two gold gloves and combined for 24 Defensive Runs Saved in 2018 and 2019, the former Indians shortstop was shipped to New York for a package of young players in return. Lindor has one year remaining on his contract before he hits free agency.
It is possible that Lindor plays out the year, reaches free agency, and Seattle makes him an offer he can't refuse, subsequently moving Crawford to second base. But many assume the Mets made this trade with full intention of locking up Lindor to a lengthy extension before the 2021 season is up, therefore ending his bidding war before it begins.
Jose Ramirez – Third Baseman, Cleveland Indians
His situation is really a bummer. Were he a true free agent in 2022, he'd be the golden star at the top of my wish list, no question about it. There is not a more underrated and underappreciated superstar in the baseball. If you asked a casual baseball fan "who is the best player on the Indians?" (pre-Mets trade) their answer would likely be Lindor. But Ramirez has finished top three in AL MVP voting three of the last four seasons and is a more productive player than Lindor in almost every offensive category across the board. Yet it feels like you never hear nearly enough about him on a national level.
If you pull up a list of MLB's 2022 free agents, Ramirez's name will appear. But if you dig deeper, he has two years of club options remaining at the end of 2021, which the Indians will almost surely pick up. Maybe there's some outside chance that he finds a way out of it? But unlikely. Maybe the M's trade for him, cutting ties with a couple high-end prospects to acquire a proven difference maker like the Padres have done? Possible, but the Indians have currently made him unavailable.
(By the way, before we move on from Jose, I just have to say this: his contract is absolutely criminal. Highway robbery. He's on a four-year, $26 million dollar deal! Sure, he was a fairly unproven 23-year-old when he signed it but looking now I just can't get over that. Even with the two club options, that will come out to six-years, $52 million. Unreal.)
Lock it In
Trevor Story – Shortstop, Colorado Rockies
With Arenado and Ramirez being long shots, Story is the top player I would like to see Seattle land come next offseason. Story is a true five-tool player. He's saved 45 runs in his first five big league seasons, posted an OPS north of .900 three times in five tries, had back-to-back 35 home run campaigns in 2018 and 2019, and swiped 50 bags in that time as well. His 2020 was on pace for more of the same.
The one question mark on Story is the same that every Rockies player gets burdened with: the "away from Coors Field" factor. With Story, that concern isn't unwarranted. He's posted a .304/.370/.624 career slash line at home in Colorado. On the road? .250/.315/.445. For reference, Arenado's career home line is .322/.376/.609 compared to a .263/.322/.471 road line.
But the elite players usually shake this. One might need a bucket and some Tums when looking at Lemahieu's career road numbers, especially with the Rockies, but that hasn't stood in his way of cementing himself as one of the best players in baseball since joining the Yankees. Story, more than likely will also follow suit.
Like I mentioned above, the Rockies are not in a position to win, are not getting better anytime soon, and just showed the door to their best player (although, there's a real case for Story when it comes to this topic). His future in the mile-high city looks bleak, and his services may very well be in a new climate come 2022. Seems like an obvious fit for the Mariners.
Corey Seager – Shortstop, Los Angeles Dodgers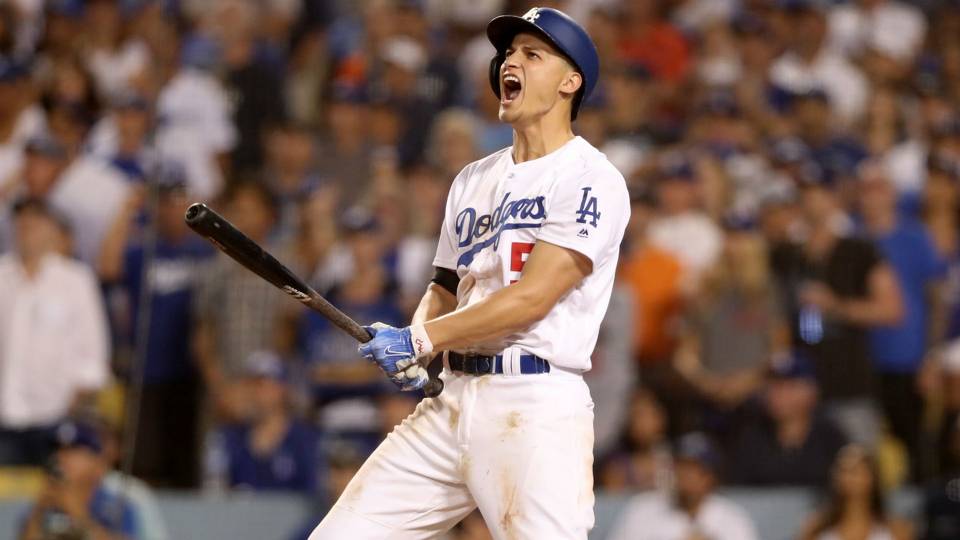 Seager was in the elite category for his position right when he hit the big leagues, winning 2017 NL Rookie of the Year and making back-to-back All-Star Games. He missed almost all of 2018 due to Tommy John surgery but picked up right where he left off upon return. In 2020 he put up his best statistical season to date, on pace for a career year had it not been for a shortened season. He was also the best player in the postseason not named Randy Arozarena, and offensively anchored the Dodgers to a world championship. Seager collected 22 hits over that span, putting up a .328 clip with eight home runs and earned World Series MVP honors.
The Dodgers will surely want to keep him. But after signing Bauer, giving Mookie Betts a 13-year extension, and having to juggle how to try and retain Clayton Kershaw (we'll get to him later), along with Cody Bellinger and Walker Buehler down the road, the team with baseball's highest payroll will have some tough decisions to make.
This young M's ballclub could certainly use someone with postseason experience, let alone proven success when getting there. His brother Kyle (you may have heard of him) will also be a free agent, but if the Mariners can bring back Kyle for a lesser price to play a smaller role, who does own house in the Seattle area, this could be one enticing sales pitch to lure his younger brother and pair the two up as teammates.
Javier Baez – Infielder, Chicago Cubs
Javy Baez has flash, he has swag, he has charisma, and best of all, he has star power. His resume across 2018 and 2019 is a laundry list. Baez smashed over 150 extra-base hits, 63 homers, and came just shy 200 RBI in that time, while placing as the MVP runner-up to Christian Yelich in 2018. Better yet, his defense has soared in the last two seasons. Since primarily settling down at shortstop, he reeled in an eye-popping 34 Defensive Runs Saved combined over 2019 and 2020 and just received a Gold Glove in November.
The only hesitation on Baez is his bat in 2020 was far from the mean. He hit just .203 and never found any rhythm in the pandemic-ridden season. When his career began, he took a little longer than some expected to attain a dominant playing level, but 2020 looked like his rookie year back in 2014 where he was plain lost.
This was probably just a fluke year and a blip on the radar for Baez, but let's keep a close eye on his 2021 campaign. If he returns to form, there's no reason for the Mariners to not have heavy interest. A power hitting sub-30-year-old who has ability to play three infield spots.
Kris Bryant – Third Baseman, Chicago Cubs
When Kris Bryant is healthy, he's one of the game's best. But injuries have caused him to miss over 100 games in the last three years, including 60 games in 2018 and nearly half of 2020. Still, he had an All-Star season in 2019 with 30 long balls and a .901 OPS, and his 2018 wasn't awful either, it just wasn't quite Kris Bryant-esque. He, like Baez, will also be a player to keep tabs on this upcoming year after a disappointing 2020 in which he hit .206 in 34 games.
This one is undoubtedly fascinating, not just because of who Bryant is as a player, but it fits a direct need as opposed to signing one of the shortstops and finding a new position for Crawford. Third base will be wide open after 2021, and even if Kyle Seager is retained (hopefully playing a potential hand in the Corey Seager recruiting project), his volume could easily be decreased to allow Bryant to be the everyday third baseman. Seager has the ability to play some second base if needed, plus he could still take on some of the defensive load at third to allow Bryant a healthy time share at DH (defense is not his strongest tool).
If Bryant does begin crushing baseballs into different area codes again in 2021 with that cool, effortless right-handed flick of the wrists, his price tag will not come at a discount. He is managed by baseball super-agent Scott Boras, who almost never lets his clients settle, no matter what or how long it takes. Just ask Gerrit Cole and his nine-year, $324 million record setting deal in the Bronx, or Bryce Harper and his near-lifetime 13-year, $330 million contract with the Phillies, among hundreds of others across the sport. But let's reiterate this again. The M's payroll is unusually low, and they are anything but an organization short on cash. They can make it happen if they choose to.
Pitchers
I promised I would get to this, so here we are. This is where things could get a little tricky, with the pandemic throwing a wrench into Seattle's timeline, as it did everyone. Had it been a normal 2020, the Mariners would currently have a firm grasp on the progress of highly touted right-handers Emerson Hancock and George Kirby in addition to a few other young arms. But it didn't, so as a result Kirby's hurled than 25 innings in pro ball, Hancock has yet to hit a mound in a live game, and neither got much work over the summer at the alternate training site.
If they both take a similar path that Gilbert did and skyrocket through three minor league levels in one season, which isn't the norm, they still may not be fully ready for 2022. Even if they are, that's a heavy load the club would potentially ask of three very young starters along with a staff that has seen a combined zero postseason innings.
But don't misconstrue it. I'm not suggesting they should spend heavily on multiple arms, a few years down the road they may have a fearsome rotation all consisting of homegrown talent, something that is practically foreign to Mariners fans. I'm not even suggesting throwing a colossal deal at one single starter. I personally think that can often lead to meager results and an avalanche of dead coin. Not to the same extent as throwing the bank account at a running back in the NFL, but there are more examples of extensive contracts given to starting pitchers that end up like Jordan Zimmerman than there are Max Scherzer.
Where does that lead us? Right back to the wowing free agent class. If Seattle follows the blueprint above to stick with their up-and-coming arms long term, they will not exercise the ideas of Noah Syndergaard or Eduardo Rodriguez, two younger free agents who have battled recent injuries. But there are some desirable veterans that could fit the bill for a shorter type of deal to help the M's win in 2022. In fact, they are three guys who could be looking for an additional checkpoint on their trains en route to Cooperstown.
Max Scherzer – Right-Hander, Washington Nationals
Justin Verlander – Right-Hander, Houston Astros
Clayton Kershaw – Left-Hander, Los Angeles Dodgers
Let's put these three all into the same category, because they are all built on the same idea: first ballot Hall of Famers who have won rings, played crucial roles in doing so, but are starting to have their careers wind down (that's at least the case with Scherzer and Verlander, Kershaw may still have a few prime years left). But that doesn't mean they have no juice left either.
Kershaw is the least likely fit for Seattle. He will be 35 in 2022 and could seek out to get one final substantial payday in his next contract, plus he may never undress the Dodger uniform. But Scherzer and Verlander could make some sense. Entering their ages 37 and 39 seasons in 2022, respectively, a one or two-year deal where they serve as the team's No. 2 or 3 in the rotation could give the M's the jolt they need while helping the young arms gear toward competitive postseason play.
Verlander will likely miss all of 2021 with Tommy John surgery and could ultimately contemplate retirement, but his statements on the matter suggest against that with hopes to continue his career. Scherzer's 2020 season appeared that father time may be starting to get the better of him for the first time, and when you add in his injuries in 2019 it does make you wonder. His upcoming year's results will be a somewhat clear indicator of what he can still bring to an organization when he hits free agency. To compete in 2022, there is a high possibility of the Mariners being in need of an additional starting pitcher before Hancock and Kirby's arrival. Jerry Dipoto and company certainly shouldn't rule out the idea of a partnership with these all-time greats.
Wrap-Up
Did it take awhile to read through all those names? If so, the message got through: there will be an abundance of riches available come 2022. There are no slim pickings. Believe it or not, there's a ton of names that there wasn't enough time to touch on, and in a more normal offseason they would be some of the headlines (see here for full free agent list).
Maybe to Mariners fans this seems like nothing more than wishful thinking and perhaps some of you reading this believe all of these ideas are nothing more than next year's versions of Bauer, that in the end they'll never land here. Let me ask you this: did you ever think Seattle would land Robinson Cano?
If you're anything like me and your answer at the time was no, let me remind you that the 2014 Mariners had chump change on their roster compared to the current Mariners. Having players to surround Cano in the lineup similar to Kelenic or Lewis would have been laughable to wish for, people back then were holding their breath that Kendrys Morales would re-sign to "help Cano spark the offense". The 2021 ballclub taking steps forward and finishing above .500 certainly helps the cause. But above all, money talks. If the Mariners want it to happen, they can make it happen.
What should happen is two of these infielders landing in Seattle. At least one of these names is a must, but if the organization is serious about finally putting their on-field product over the top and into title contention, there is no reason they shouldn't be aggressive and bring in two substantial ballplayers. If they don't, there will be nobody to blame but themselves. It isn't a payroll issue.
Sure, there are a couple of notable free agent infielders in the 2023 free agent class such as catcher Willson Contreras, first baseman Jose Abreu and shortstop Trea Turner, but that's nowhere near the quality or quantity of 2022.
As mentioned before, Dipoto has made a splash in free agency during his career by signing multiple game-changing players. But Anaheim never had a dense farm system that translated to impactful MLB talent outside of some guy named Trout. And more often than not a team can't only buy its way to a ring. When a franchise possesses thoroughly developed homegrown players mixed in with some outstanding veterans via trade or free agency, that's when you've got something, as evident from almost every World Series winner.
And guess what? There's a changing of the guard. Not just in the AL West, but the entire American League. The Mariners front office saw this coming too, which is not only why they underwent a rebuild, but they targeted it for this very window. Houston is on its last leg with Verlander, Greinke and Correa out the door at the end of this year and that's after losing George Springer to Toronto. Oakland's roster was gutted this offseason, and sooner or later their budget will force them to move on from the AL's most dangerous corner infield duo of Matt Chapman and Matt Olson. The Angels and Rangers can't seem to figure out much of anything these days, with the Halos continuing to never fix their rotation. And the top-heavy league that for years featured New York, Houston, Cleveland and Boston with significant separation is now a memory, at least with three of those four (the Yankees are still a threat).
So enough playing around. The team has money. The young major league group has a high ceiling, they're hungry and they're motivated. The 2022 free agent class is jaw-dropping (there's your 5,000+ word article wrapped up in three short sentences). This is their golden opportunity, one they've been waiting on for nearly a quarter century. They don't just need to capitalize, they simply can't afford not to.